Guide to buying property in Malaga. Part 4, Malaga West
Marbella Lawyers / 0 Comments /
Part 4 of our guide to buying property in Malaga looks at the west side of the city and what you can buy on the western seafront and in the district known as Parque Litoral. For general information about the Malaga property market, tourism in the city and the holiday let market, read Part 1 here.
Malaga West – Attractions & Amenities
This side of Malaga includes a mixture of well-planned, modern new districts and older districts with poor quality and high-density construction (of little interest to foreign buyers or investors). The well-equipped seafront promenade with designated cycle lane backs the wide Misericordia beach with blue-flag status and lovely views of Malaga Bay. Sports facilities on this side of the city are excellent and there are two main cultural centres plus two museums (Car Museum and Russian Museum) as well as several large parks.
Malaga West – Advantages & Disadvantages
Advantages of buying property in this part of Malaga include:
Easy and quick access to Malaga Airport and the western Costa del Sol.
Attractive and wide seafront promenade for walking and cycling.
Good amenities and sports and cultural facilities.
Good public transport to Malaga city centre – bus and metro services.
Plenty of green areas.
On the other hand, drawbacks are:
Seafront areas at the west end are currently undeveloped giving the impression of abandonment.
Malaga Metro only reaches as far as the mainline train station, although work is underway to
continue the line to the Corte Inglés (end 2016) and the old quarter (early 2018).
Few tourist attractions in the area so property has less holiday let potential.
Malaga West – Property Market & Prices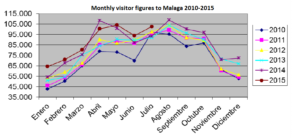 Property in this area of Malaga consists almost exclusively of apartment blocks, often with communal gardens and pool. Many modern blocks on the seafront and in Parque Litoral are of high-quality construction. A few off-plans projects are currently on the market with several more planned for the new future including frontline beach property. Expect to pay from €160,000 for a 2-bed, 2-bath property in Parque Litoral and at least double that for a seafront apartment.
Malaga West – Property Checklist
If you like a property near empty land, check what is planned for the land.
In developments with large communal areas and facilities, find out the cost of monthly community charges and factor these into your financial calculations.
Take advice from an independent lawyer who speaks your language before committing to any payments or contracts.
If you're interested in finding out about property in Malaga city centre, read Part 2. For information about property in east Malaga, see Part 3.
Our FREE Guide to Buying Property in Spain provides advice and information on the buying process and costs and taxes. Download your copy here. Download FREE Guides to Spanish Property