Investing in buy-to-let property in Malaga
At Andalusian Lawyers, we've recently had several clients from different countries in Europe looking at buy-to-let property in Malaga. Even as we are still in lock-down with the pandemic, Malaga is a very attractive place to live and work, so as things look promising with the vaccination process making good progress, there is a big interest in this town and many people are planning to invest in Malaga thinking on either buying to rent out or moving either to retire or to work here. Although the pandemic "recession" made the rental prices go down slightly in this area,  rental returns in Malaga are among the highest in Spain and similar to Madrid and Barcelona.
On the back of an ever-improving property market on the Costa del Sol in general, Malaga city too has become one of the favoured spots for investment. Property prices have risen in the capital as has new development.
Many foreigners have bought property with holiday lets in mind. Malaga's buoyant tourism has opened up the demand for holiday rentals over the last year, an upward curve mirrored by the long-term rental market.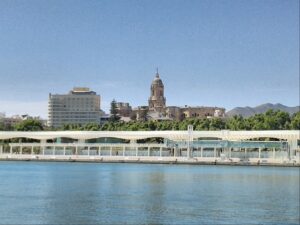 Buy-to-let property in Malaga has most 'immediate rentals'
According to a reports from the main property portals in Spain, the long-term rental market in Malaga has soared over the last years. Latest statistics (see details below) show that, even in the actual pandemic circumstances, there is a strong demand and relatively low supply.
Four out of every ten new rental properties in Malaga are let within a week of entering the market. What is more, 18 per cent of these are taken in less than 48 hours. This speed in which properties are rented out has earned Malaga the top position in Spain for 'quick rentals'.
Strong demand driving buy-to-let market
Analysts point to two reasons behind this unprecedented demand for rental properties in Malaga. Firstly is the influx of new residents.
The rise of holiday lets in Malaga also effects the supply of long-term rentals in the city. Many property owners opt for holiday rentals rather than long-term lets, reducing the number of properties on the market.
Rental returns high on buy-to-let in Malaga
According to the info supplied by one the biggest real estate portals in Spain (Fotocasa) the property prices to buy in Malaga city have increased in the last year 2020 by a 2.8% and the rental prices have decreased a 5.6%, and still the rental return of the investment is a 4.9%. In nearby coastal towns like Torremolinos, Marbella or Fuengirola, the indexes are 5%, 4.5% and 4.5%.
So with this information it is clear that Málaga and surrounding towns are a  safe and profitable places to invest.
Need more info about Malaga?
If you need more information about this city, we strongly recommend you to have a good look at Guide to Malaga. This guide is the most updated and detailed source of information about Malaga at the moment and has just produced a great ebook about relocation to this part of the world.
Advice on buy-to-let property in Malaga
Investing in a buy-to-let property in Malaga is straight-forward providing you take expert advice, both on the purchase and on the rental itself.
Spanish rental law is stringent and long-term rental contracts contain binding clauses for the property owner. To protect your interests, employ the services of a lawyer specialized in rental law to explain to you the implications of long-term rental contracts and to draw up the contract itself.
Andalusian Lawyers have been safeguarding the interests and investments of their clients for over 25 years. Contact us for advice and a no-obligation quote for our comprehensive conveyancing services.
Interested in buying a property in Malaga? Read our 4-part guide to the city:
Guide to property in Malaga centre
Guide to property in Malaga east